Coin Street - Your Path to Financial Prosperity
Everything we do is focused on creating a better financial future for you.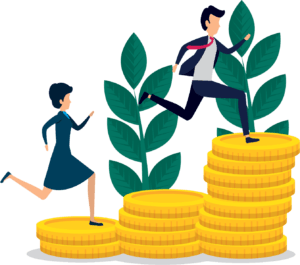 At Coin Street, we believe that every individual deserves the opportunity to build a secure and prosperous future. We understand that the world of investments can be complex and daunting, which is why we're here to guide you through it. We want to work with you at each step in your wealth creation journey and ensure you get the right financial advice which is aligned with your goals and risk profile.
Our Story - From Passion to Profession
It all began as a side hustle, a humble endeavor driven by passion. Over a decade ago, we took our first steps into the world of capital management when we began managing our own funds. What started as a personal pursuit has evolved into a profound journey of growth and discovery.
Throughout these ten years, we faced many ups and downs, standing alongside Mr. Market, gaining invaluable insights along the way. Each mistake, each failure taught us something precious, only fueling our eagerness to learn more. We became avid students of the financial markets and never ceased learning. These daily lessons have compounded over the years. As we reflect on our journey, we realized we've reached a point where we want to share our learnings and experiences, and in the process, help others grow their wealth. We wanted to create a platform where every individual could find the tools and support needed to nurture their financial wellbeing. And so, Coin Street was born
Founder
Rohit is an alumnus of IIT Kanpur, where he earned his B.Tech, and IIM Calcutta, where he completed his MBA. He has worked for 9 years at Standard Chartered Bank. During this tenure, he gained valuable experience and industry insights. He has worked with various teams like commercial real estate, corporate finance, and capital markets
Mentor
Ambuj is an industry veteran with 18+ years of experience and has held many senior positions, including CFO and board member in various real estate and hospitality firms. He is helping us with his invaluable experience as we embark on our journey to build one of the preferred investing platform